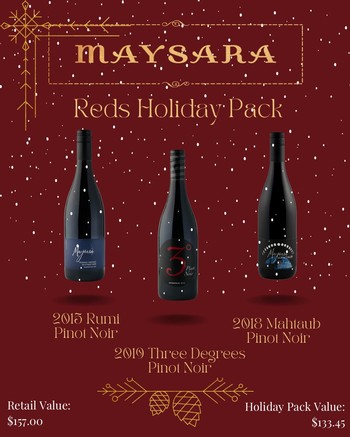 2022 Holiday Red Wines Pack
Winter is here and to help you fend off the chilly weather, we've put together a holiday pack of biodynamic brilliance to keep you warm throughout the season! Included in each pack are two of our favorite whole cluster pinot noirs: the 2018 Mahtaub and the 2015 Rumi. Both of these 100% whole cluster wines embody the essence of our estate and are the perfect bottles to share with that special someone at the top of your 'nice' list this year.
If you're heading out to a party and looking for a fun bottle to show off to friends or family, the 2019 Three Degrees pinot noir is one of our favorites to showcase the quality of Oregon Pinot Noir at a price point that can be enjoyed year-round!
Be sure to weigh your options against our other selections and get your packs ordered ASAP so you can receive them before the holidays!

Included Bottles:
(1) 2015 Rumi 100% Whole Cluster Pinot Noir
(1) 2015 Rumi 100% Whole Cluster Pinot Noir
(1) 2019 Three Degrees Pinot Noir