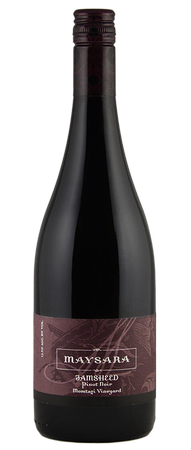 2014 Jamsheed Pinot Noir
According to ancient Persian legend, King Jamsheed was able to observe his entire realm by peering into his full wine goblet.
Wine Specs
Appellation
McMinnville AVA
Vineyard Designation
Momtazi Vineyard (Demeter USA Certified Biodynamic®)
Harvest Date
15 - 27 September 2014
Aging
Aged 12 months in French oak barrels (10% New / 90% Neutral)
Bottling Date
26 August 2015
Wine Profile
Tasting Notes
Beginning with a generous core of red-black fruits, the McMinnville AVA saunters over the palate with both bravado and grace. Blackberry and fresh cracked pepper entwine perfectly with matured and lengthy tannins on the finish. True to the spirit of Oregon, the depth of this bottling is always an adventure to explore.
Vineyard Notes
At Maysara Winery and Momtazi Vineyard, we are committed to capturing the true expression of our land and conveying it to you through the premium quality found in every bottle. We practice low-impact, holistic farming methods in our Demeter certified Biodynamic® vineyard and carry this philosophy into the cellar, where our Biodynamic® winemaking practices produce wines with intensity and elegance while maintaining natural harmony between fruit and earth.
Winemaker Notes
-100% Native yeast and malolactic fermentation -Aged 12 months in French oak barrels (10% New / 90% Neutral) -Filtered, no fining
Other Notes
The Momtazis believe in holding vintages until the wine is fully evolved, rather than releasing chronologically. Each vintage is unique and should mature on its own timeline.